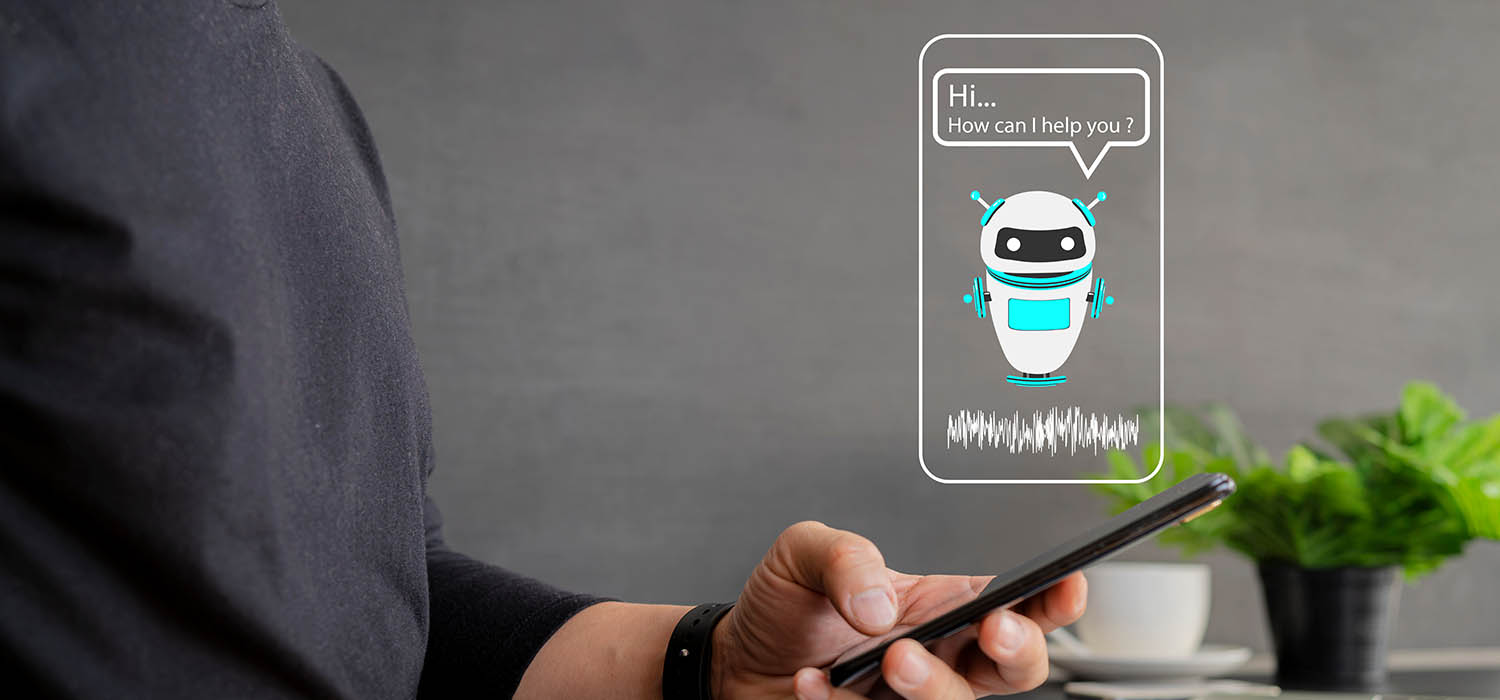 The purpose of this blog post is to compare, from both a high level and a detailed level, the differences between a service like Betterbot, and a service like Leasing Chat. The takeaways from this article won't all be specific to Betterbot, they can also be applied to other AI based chatbot technologies. This will also be applicable to chatbot considerations across other industries, but of course we will be focused on applications within the Multifamily Industry here.
Betterbot - A Quick Overview
Betterbot is a ChatBot technology, installed on property websites and other online locations, to answer questions for leasing prospects and help with the leasing process. 
Betterbot is a digital leasing solution providing renters the information they want 24/7/365 anywhere on the Internet. Using the most technologically advanced software to answer the renters' questions about the community, BetterBot showcases floor plans, virtual tours, specials and amenities while driving them to schedule in-person, self-guided, live-video and phone appointments.
Leasing Chat - A Quick Overview
Leasing Chat is a Live Chat service, offering live Leasing Consultants to assist prospects on property websites and other online channels. Leasing Chat supports a variety of chat platforms, and is assisted through automated technologies. 
Leasing Chat is a first-touch and early-journey leasing support service. Using a blend of chat technology and live leasing agents, Leasing Chat provides exceptional customer support and prospect experience. We pride ourselves on our stellar lead capture rates, lead-to-lease ratios, and the positive brand reputation we support and drive for multifamily communities.
Leasing Scenarios:
We will now address 2 common leasing scenarios, and apply both Betterbot and Leasing Chat solutions to them. Again, we will be impartial as possible and will try to highlight both the benefits and drawbacks of both solutions. The goal is to help Property Management and Marketing teams with the leasing services they offer their prospects and residents.
A note beforehand. We have blurred the property names and agent names on the following screenshots. This article is not meant to comment on the decisions a specific property office has made. All properties have the same goal, to maximize occupancy, NOI, and resident satisfaction.
---
Scenario 1:
A prospect who lives locally looking for a 1 Bedroom Apartment in the next 2 months. They drive by an apartment community in their area and go to the website to see what is available.
The Betterbot Interaction:
The prospect is greeted by BetterBot.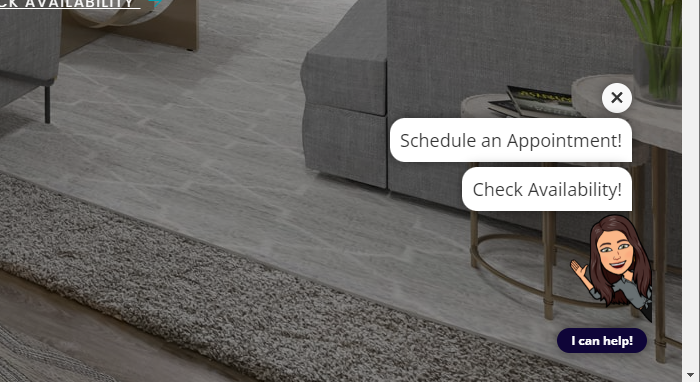 The prospect clicks to open the chat, and is presented with a list of possible communication options.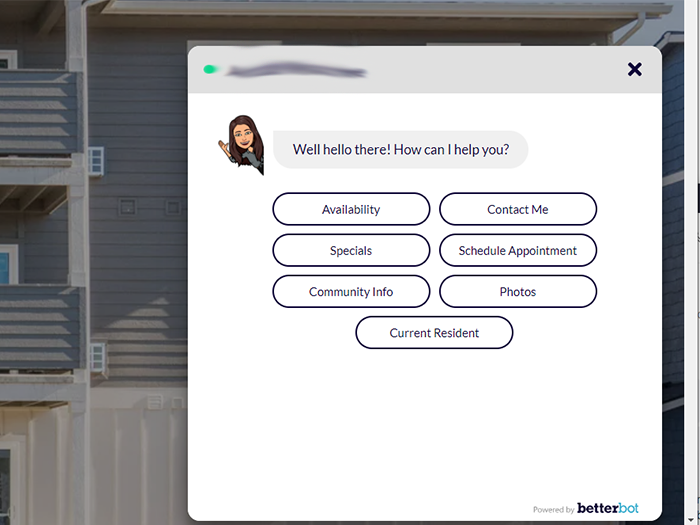 The user selects 'Availability', and is shown 2 icons, for 2 and 3 bedroom apartments. It is unclear if it's because the property does not offer any 1 bedroom apartments, or there just aren't any available right now. It's also unclear if there could be a 1 bedroom available in a couple months time. The user isn't looking to move today, they are planning for the future.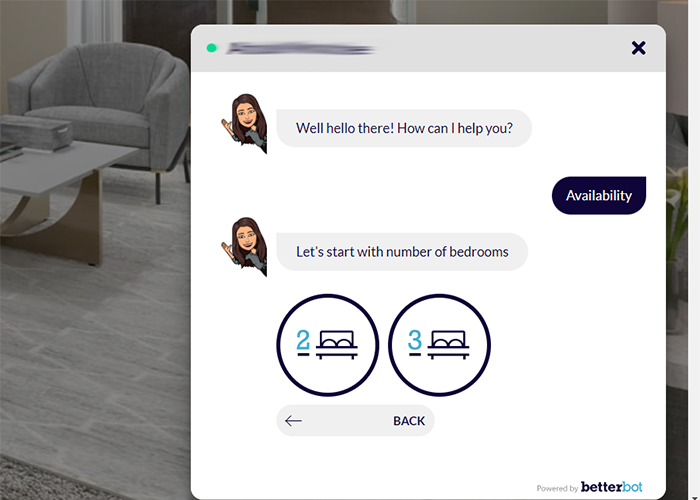 The user clicks the 2 bedroom and is provided with a floorplan, and a starting price. It's unclear when this is available, or if there are other floorplans to consider.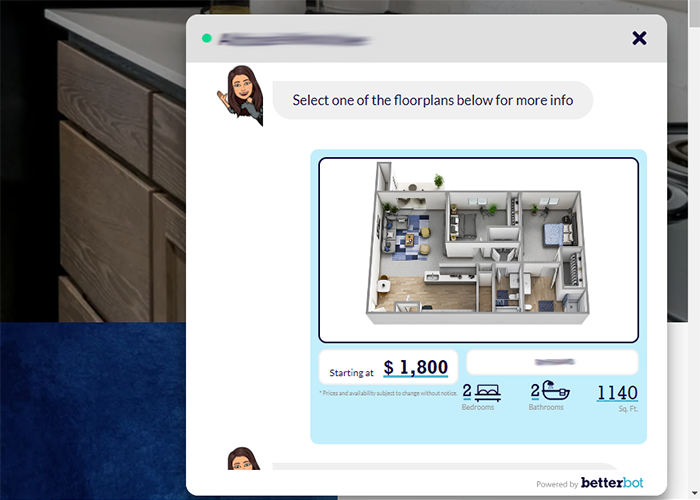 The user then clicks "Unit Availability" at the next prompt, and is provided a link to a RentCafe page with details about availability, and and given an option to go back to the start.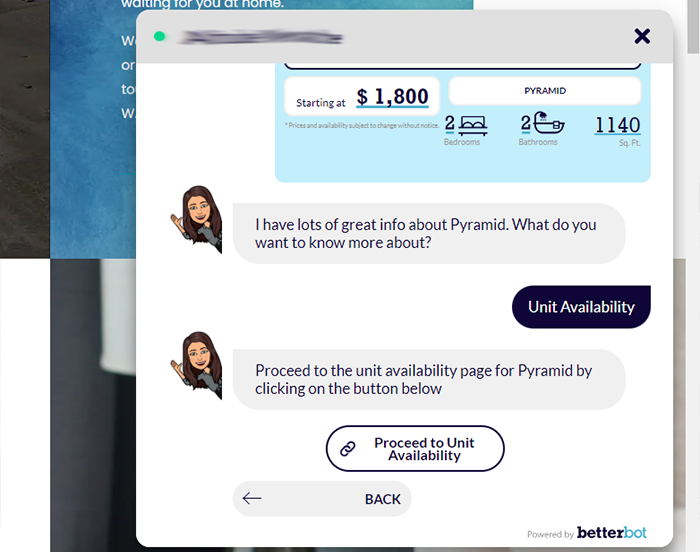 No contact details are captured. No follow through methods are available. And it's unclear if the prospect is satisfied with this outcome. 
The Leasing Chat Interaction:
The prospect is greeted by Leasing Chat.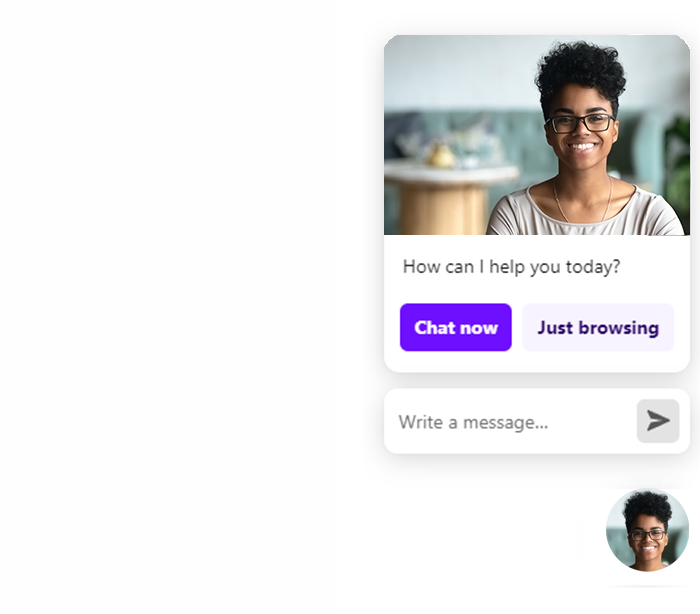 The user states they are looking for a 1 bedroom apartment. They are greeted, and while the agent looks up options begins the process of capturing prospect lead data.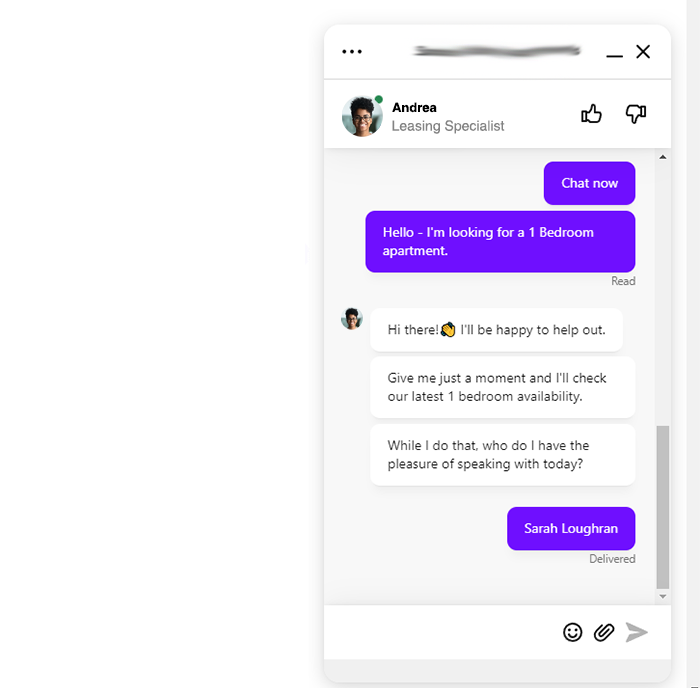 After collecting the visitors Name and phone number, the Agent adds it to a Guest Card in the PMS system and continues with their service, working to assess the needs of the customer and find a good fit.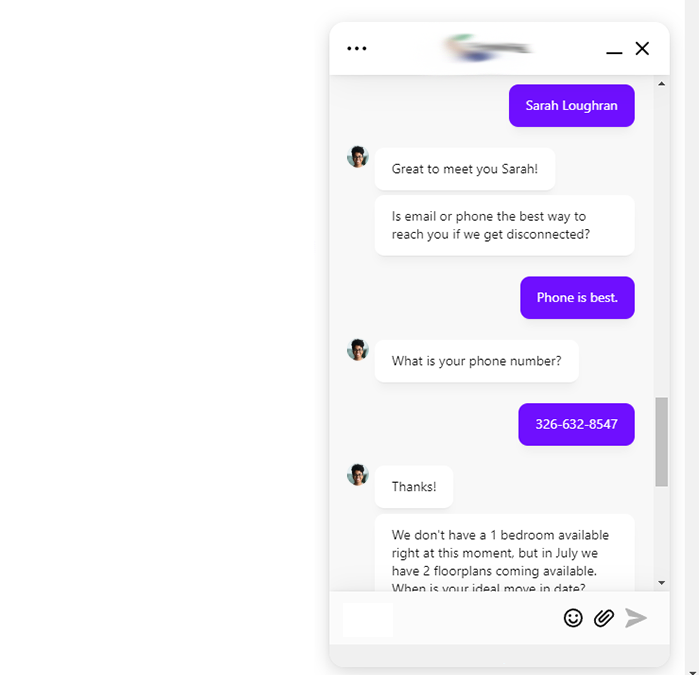 The leasing agent is able to gather some details from the prospect, and direct them to a unit that may fit their needs. The agent then offers online walk throughs, photos, floorplans, or whatever else may be available for that particular property.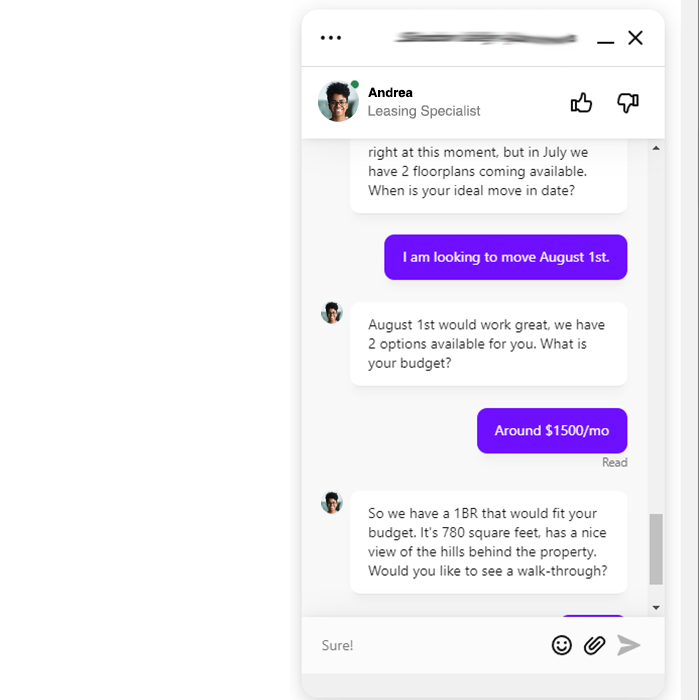 From this, a conversation develops. The agent works with the prospect to determine an appropriate unit, move-in date, and schedules an in person tour in the property management system so she can see the unit in person.
Afterwards, the prospect is provided with a brief satisfaction survey which helps guide agents with their interactions in the future.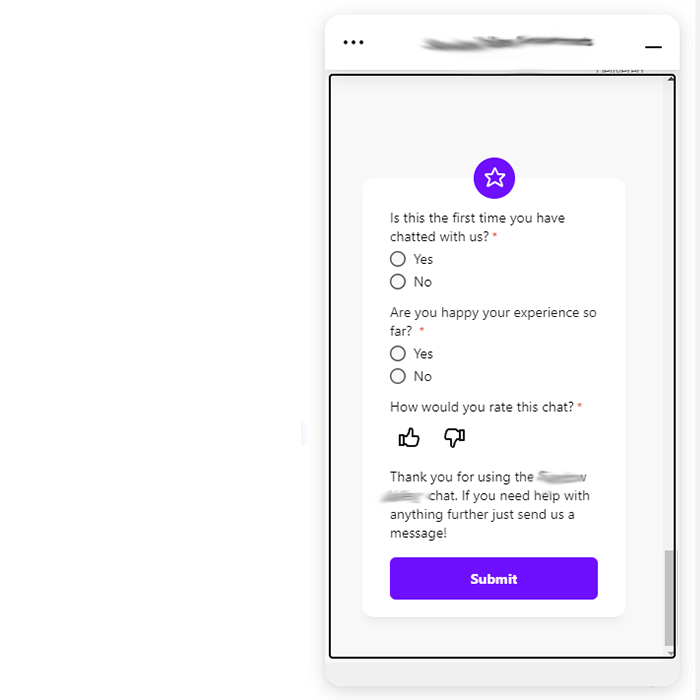 Scenario 1 Conclusion:
Betterbot has not truly helped this particular customer, because the customer still does not know if there are 1BR apartments available. They have added their name and phone number, but do not know when they may be contacted. Across the industry it has been demonstrated that only 50% of prospects are responded to by onsite leasing teams, so it's possible this potential customer does not hear from the team, and never enters the leasing sales funnel. 
Leasing Chat has informed the prospect of the current 1 bedroom options. They have had a pleasant conversation, and the prospect has provided contact details and been added to the CRM system. They have also scheduled and in person tour. Their employment and relevant details have been added as notes so the onsite team has as many details as possible. This customer is a high value lead, and likely to convert to a lease.
Comparison - The same prospect, looking for the same information, has 2 very different experiences. In both they learn a little, and in both they get added to the CRM/PMS. But what prospect has a better experience and is better served? What is the desired experience for a prospect?
One additional note: *Customers don't like being misled. Sometimes, not always, but sometimes, Betterbot users select a Human avatar for the chatbot. This gives the impression when a user sees it that they will be talking to a human. It is then made apparent it is a chatbot, and the user is let down. If you are going to incorporate chatbots on property websites, it's best to do everything you can to make it apparent the chatbot is in-fact a chatbot, so users don't get confused or have false expectations. *
---
Scenario 2:
A prospect is moving to Dallas. She is searching for apartments online. She knows what part of town she'd like to be in, and has narrowed her search down to 3 area communities. She is trying to decide between them based on price and community amenities.
The Betterbot Interaction:
The prospect is greeted by Betterbot. In this instance, the bot icon is used instead of a human icon.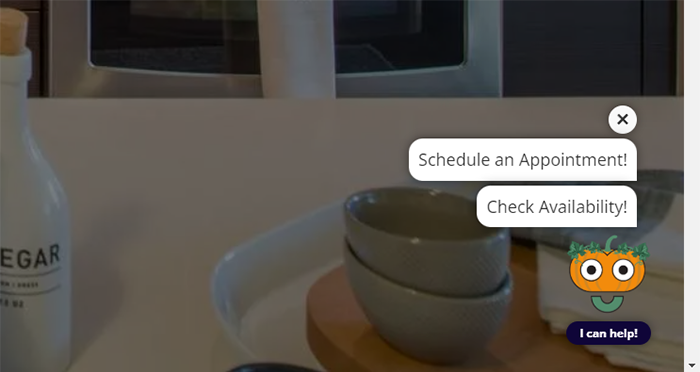 The prospect clicks through to "Community Info" to learn a little about the property.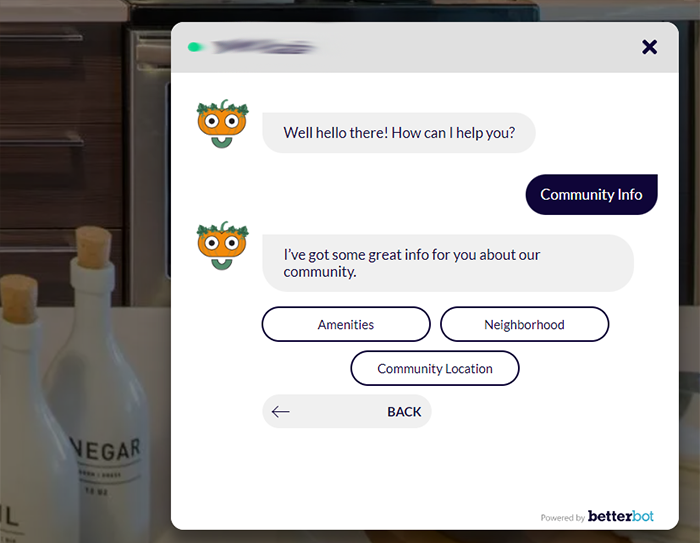 The prospect is interested in the pool she saw online, and navigates to "Amenities"  The prospect selects "Rooftop" to see what is on offer. They are presented with a checklist of features on the building's rooftop.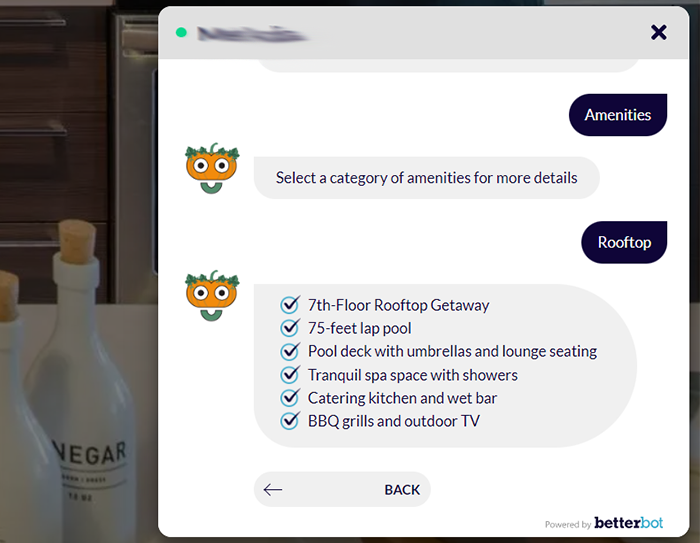 They then go back to the Amenities tab, and click through to "Fitness" to find some details about the gym.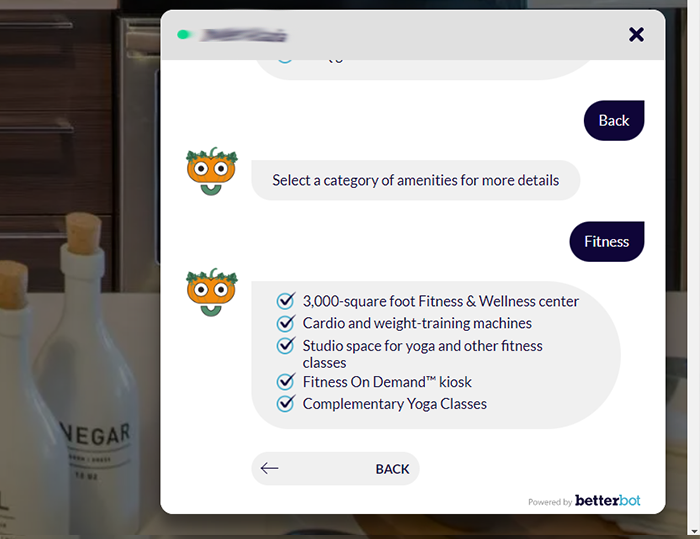 She then navigates back to find some details about Availability.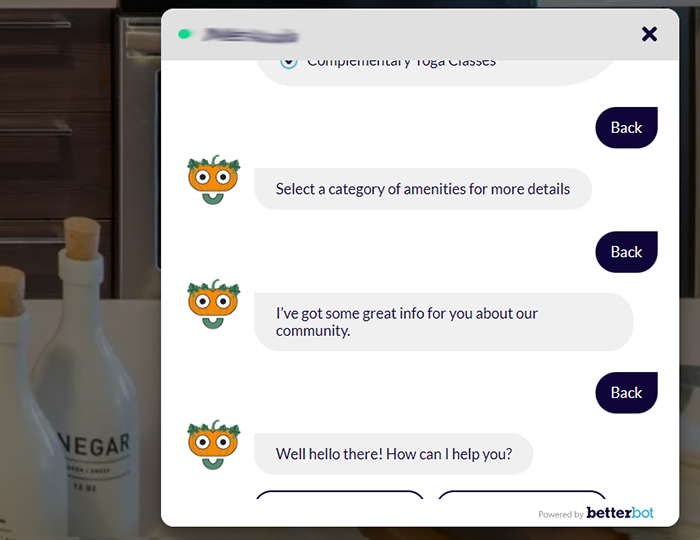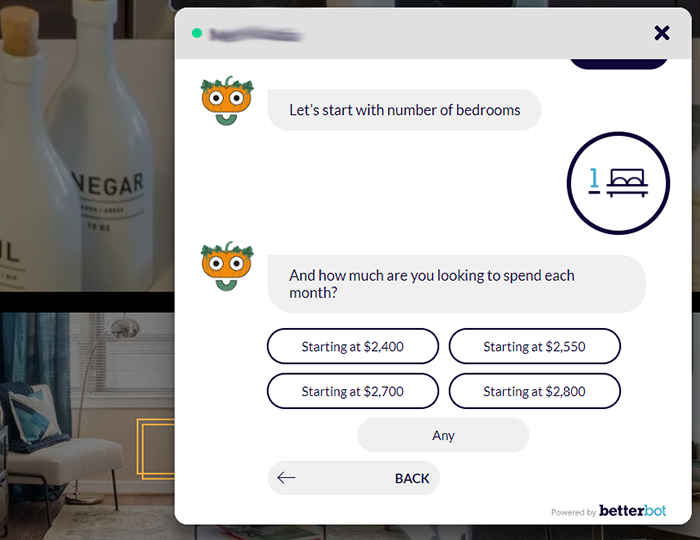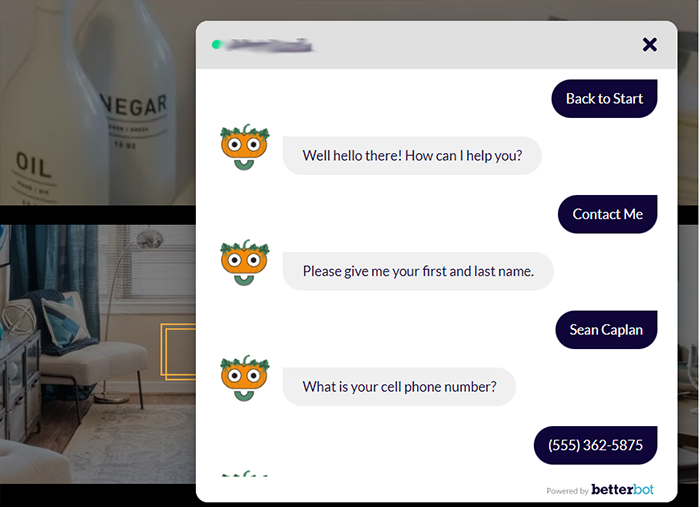 The prospect would like to get more details and speak to an agent, so she selects  "Back to Start", is greeted again, and selects "Contact Me". She then submits her name and number, and the conversation is completed. It is unclear when they should expect a call, or who will be contacting them. There is no way to collaborate on those details. 
The Leasing Chat Interaction:
The prospect is greeted by Leasing Chat and immediately asks about the pool.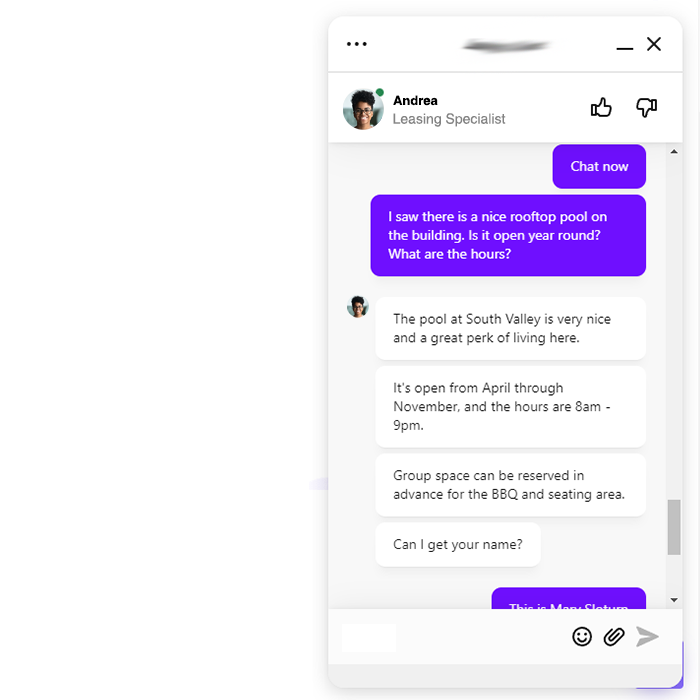 The agent upsells the pool, as it is true highlight of the property, and provides some important details about it. The agent then asks for some basic Guest Card data and gets the prospect added into the system.
The agent then moves on to assessing the needs of the prospect.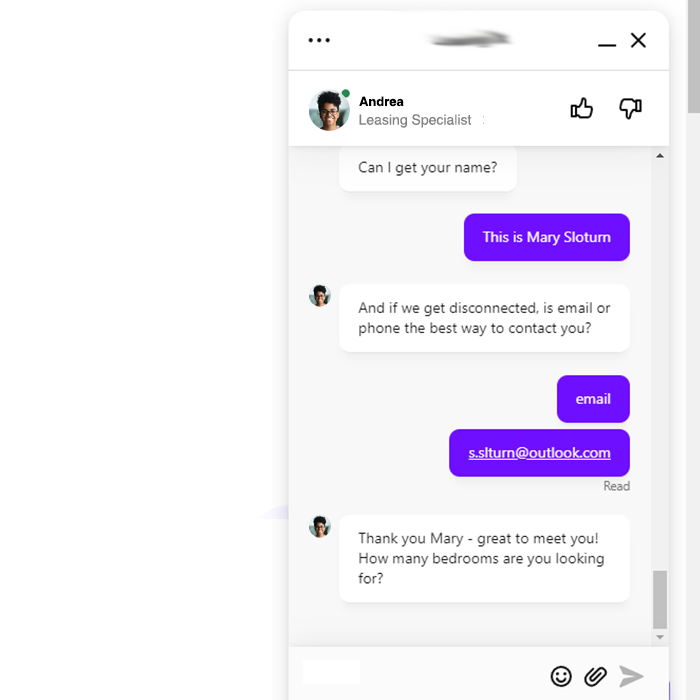 The agent highlights some of the incentives that apply for this particular prospect, and continues to speak highly of the property and entice the prospect. Chat agents aren't only providing data to prospects, they are part of the leasing sales team, and highlight all the reasons a prospect should be interested in a particular property.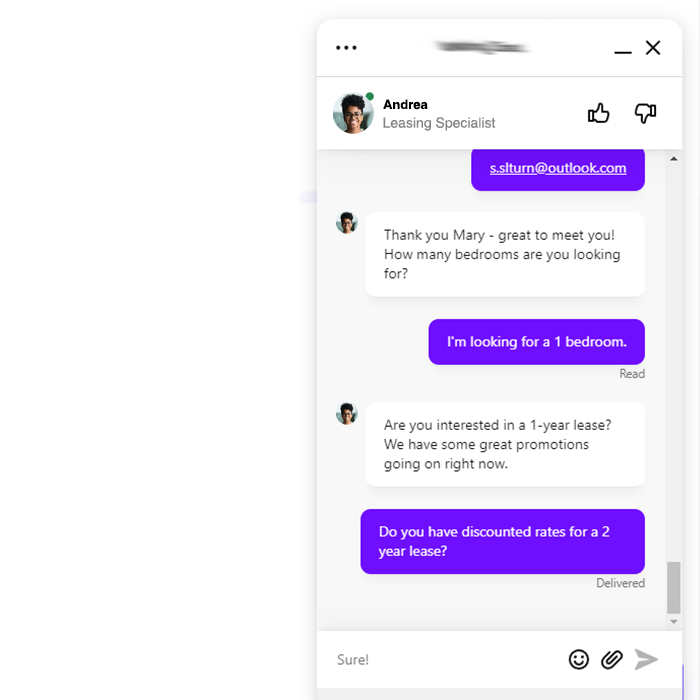 After some more discussion, the agent informs the prospect they have been added to the system, and property leasing staff will be in touch tomorrow morning. They also provide the online page for application for when the time is appropriate. 
---
BETTER BOT CONCLUSIONS
Betterbot review. The biggest thing we notice is, there is No way to ask a question. Betterbot is built to provide the information within a PMS system - the information already on most property websites. Betterbot is a secondary data source.
We are biased, of course, but the key difference is - BetterBot is in large part just a secondary source of accessing property data that is already included on the website. BetterBot builds its data pathways based on the data in your PMS and not on the questions of your prospects. It has limited data, limited interaction, and limited results.
There are many important interactions an online agent can make with a prospect that are missed by the capabilities of Betterbot. For example:
What if a property has different pricing for different lease lengths?

What if a property is running a promotion to encourage applications? 1 Free month dramatically reduces the adjusted monthly cost of an apartment, and Betterbot doesn't account for this when showing prices.

What if your property has discounts for preferred employers?
There is no way to ask a question with Betterbot, which is a big downside.
The positives are - Betterbot has a nice attractive interface, and is straightforward to use. For the right use cases it can do a good job of providing basic property details. There are in fact some users who prefer an automated bot to a human interaction, and this serves those individuals.
LEASING CHAT CONCLUSIONS
In both scenarios the user is greeted personally, and provided friendly service. The agent strived to not only get the prospect the answers to their questions, but also create a connection, collect relevant prospect data, and put a good face on the property.
The leasing agent was able to highlight relevant features to the prospect, and suggest their next course of action. In both scenarios a Guest Card was created in the management system, and a tour and call-back were scheduled.
Needs Assessment is what allows the agent to pre-screen a prospect for a good fit, and determine if an apartment or community is right for them.
FINAL THOUGHTS
Chatbots and AI can provide a lot of great services in the multifamily industry. Used correctly they can be beneficial to the leasing process as well. However, a trained leasing consultant will always provide a more personalized experience, and will be able to draw upon their experience to help a prospect find an apartment that fits their needs.
In closing:
In a recent episode of the Apartments on the Go Podcast, Robert Turnbull, the founder of Betterbot stated the following:
"So chat is human to human. The problem is our industry is, there's no one around – they're not available. That was always the big miss with chat. How do you have someone on the other end? ….So, chats have always been a struggle in our industry, but bots provide the other side of it." – Robert Turnbull
This is true, and has been true for a long time. There have not been good live chat solutions for leasing, and leasing teams attempting to integrate it on their own on a property level often fail to provide quality service (for a variety of reasons).
Thank you for reading.
Get A Quote
The performance of 10 Leasing Consultants for the cost of 1.