IT'S ALL ABOUT THE DATA
-- Wouldn't it be great if you could trust your data integrity? --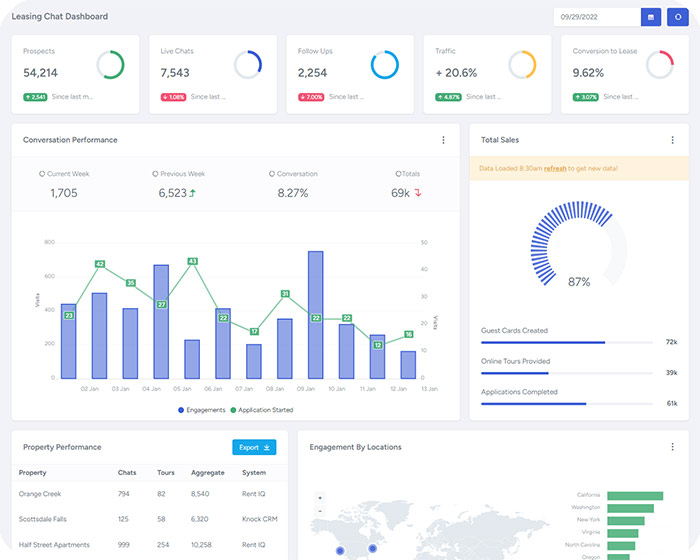 Data Oversight
The Stats Don't Lie
We build and report the data models managers need. We help property management teams recognize where they are succeeding and where they aren't when it comes to leasing. Customer driven data points and feedback complete with contextualization provided by our team. Data provided across entire portfolios, or winnowed to the single-property level.
Uniquely Multi-Property
Because we are a bespoke and custom service, we tailor our interaction, data, and workflow to the needs of each property. Different tech stacks? No problem. Different auditing protocols? No problem. Different promos and marketing? No problem!
Analytics to Drive Decision Making
Leasing Chat represents thousands of units all around the United States. Our data reports don't just include specific details about the performance of your properties, but it includes context against the industry and your geo-market as a whole.
Keep Agile
Recognize Trends
Our team is reaching prospective renters hundreds of times a day, which gives us a very unique oversight into market and leasing trends, and changes to consumer demands.
Sister Properties
Cross-property recommendations and promotion that can't be achieved any other way. Don't let interested prospects drop off due to no availability.
Keep Everyone on the Same Page
We keep everyone on the same path and create uniformity and replicability across properties. We help ensure that follow ups are being done in a timely manner, that lead details are tracked correctly, that applications are handled properly, and that prospects are in the loop at all times.
Dedicated Account Managers
Our success is predicated on the success of our clients and the improvements we can provide for Multifamily Brands and Managers. Data clarity, sticking points, and property communications all handled by our talent team.